About Us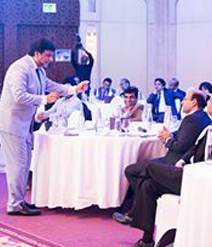 Ecole Solitaire is India's First Residential Finishing School and International Corporate Training Consultancy. Our Residential Finishing School Programs are conducted at a picturesque venue in Pune. The exclusive location and courses makes training an experience to be enjoyed and cherished. Ecole Solitaire Training Programs are residential as well as non-residential. These programs can be conducted at any venue suitable to the organization, in India and abroad.

Ecole Solitaire has some of the best training talent in the country, spearheaded by Mr. Minocher Patel, Founder Director - Ecole Solitaire who is India`s leading motivational speaker and corporate trainer of international repute.

Ecole Solitaire has introduced specialized programs such as business etiquette, telephone etiquette, personal grooming, international business etiquette, personal effectiveness programs, presentation skills, customer service skills etc. the interactive nature of our programs ensures that training is not merely institutional but a learning and an imbibing process.

Our faculty, who have worked successfully in the most varied and challenging business and training assignments bring with them a rich treasure of experience and motivational teaching techniques.

Some of our esteemed clients like – Sharaf Shipping (UAE), Maharaja Industries (Sri Lanka), KPMG, MBT, Wipro, BPL, Cognizant, Satyam, Kanbay, Geometric, Tata Consultancy Services, RBI Training Academy, Maharashtra State Police, will all vouch for our High Quality & High Impact Programs.